PRESS RELEASE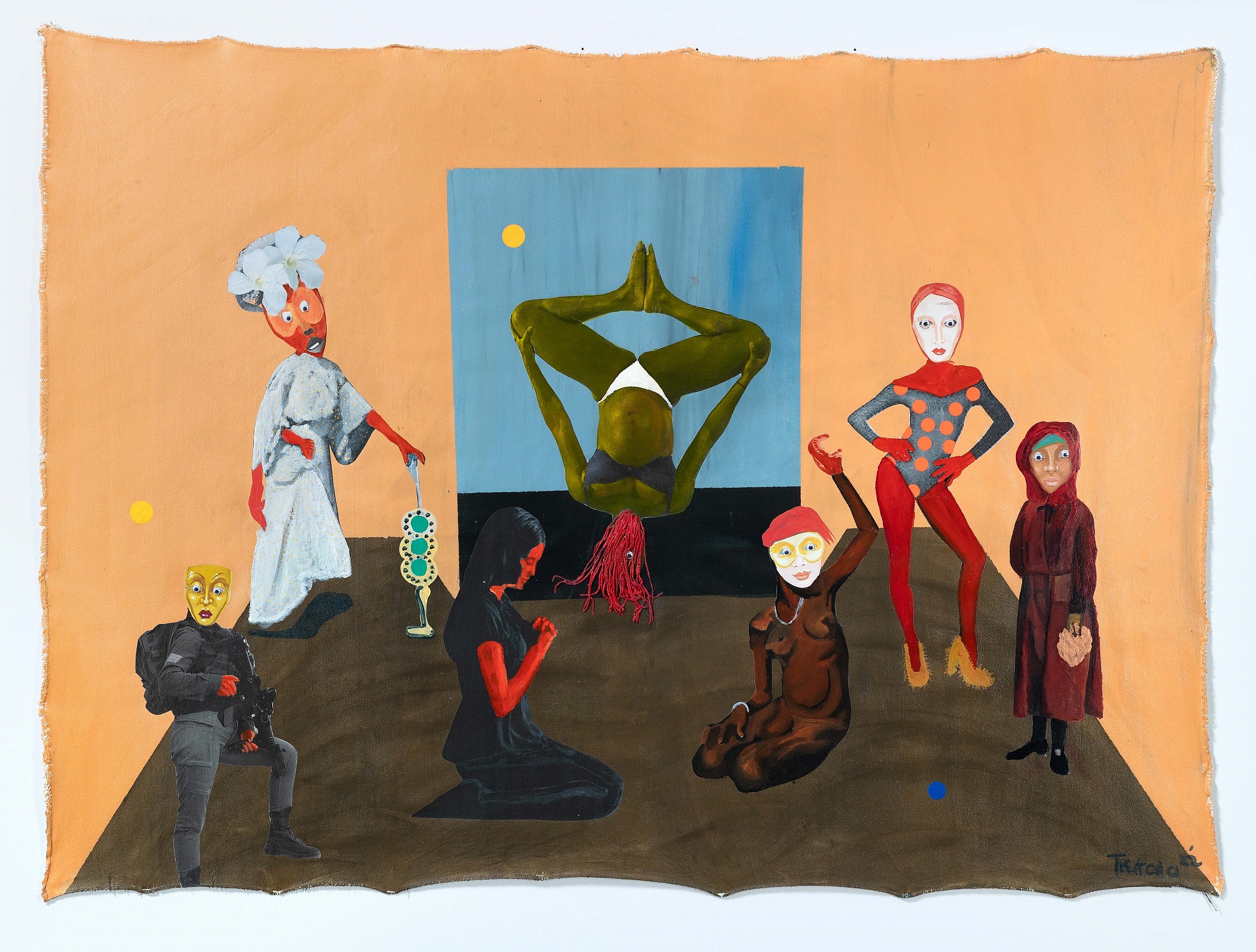 ARCOlisboa 2022
May 19 – May 22, 2022
Everard Read is delighted to be taking part in the 2022 edition of ARCOlisboa International Contemporary Art Fair.
19 – 22 May | Cordoaria Nacional | Av. da Índia 1300-598 | Lisbon
For this fifth edition of the Fair, the section Africa in Focus will explore contemporary art from the African continent and will comprise 8 galleries selected by Paula Nascimento.
At Booth H02, Everard Read will be exhibiting a selection of work by Teresa Kutala Firmino and Nandipha Mntambo.

CLICK HERE FOR MORE INFORMATION ON THE FAIR

Teresa Kutala Firmino | Oku pekela
Kutala Firmino is a multimedia artist, based in Johannesburg (South Africa), who works with paint, photography, collage and performances. She was born in Pomfret (1993), an impoverished desert town in South Africa with a strong Angolan and military influence due to the number of Angolan rebels and ex-soldiers relocated there at the end of the South African Border War (1989).
Kutala Firmino's work has been influenced by her upbringing in Pomfret, and the collective trauma experienced within that community. Her works contend with the ongoing suffering African people from Pomfret and beyond have experienced due to colonisation, civil wars and other present-day obstacles.
Translated from Umbundu, the title of this body of work, Oku pekela, means to sleep, rest, dream or re-imagine yourself in order to reflect and escape your circumstances. With Oku pekela, Kutala Firmino focuses her investigations on the genetic and social histories of the women in her family. The series of paintings evolved after the artist's difficulties during pregnancy, caused by pre-eclampsia, which affects black women at a higher rate due to a range of biological, social and cultural factors – especially in environments where black women have experienced trauma.
Trauma is inherited from one generation to the next; Kutala Firmino carries her mother and all the mothers that came before her within her cells. She considers the sober reality that this damage has been passed down through generations, living on through her and possibly then even her children. The most important question the artist continually asks herself is: "How does one begin healing hundreds of years of trauma in one's genetic line, so that future generations can escape this cycle of trauma?"
Through her work, Kutala Firmino engages with her feelings of responsibility to tell her own story and also to share the stories and histories of those women who have come before her. In telling these stories, the artist makes new discoveries and observations. She reflects on her past and reimagines her body outside of this inheritance. She reimagines her female ancestors in alternative spaces that ask questions which begin with "why?" and "what if?".
Kutala Firmino's works emerge from various images, which are collected from magazines, newspapers, historical documents, photographs and social media. These images are placed in colourful box-like stages where various scenes are created. The characters in these scenes have the opportunity to re-enact their own stories or construct new ones. This is a therapeutic process, which allows Kutala Firmino to create alternative past, present and future narratives of African women.
Nandipha Mntambo | Agoodjie
Born in Eswatini (1982), Nandipha Mntambo is currently based in Johannesburg, South Africa. Within her sculpture, photography, video and mixed media works, Mntambo's acute interest in the body is evident. The artist is perhaps best known for her cowhide sculptures, which confront and question the relationship between humans and animals. These investigations into organic nature and the corporeal address performance, gender and identity.
On the border of myth and reality – the story of Mntambo's Agoodjie is centred on the themes of metamorphoses, memory, life and death. The Agoodjie were an army of women both feared and celebrated – how their story has been deleted and mythologized forms the building blocks for this body of work.
This army of women was the personal bodyguard of the kings of Dahomey (present-day Benin), known as 'the last defence before the King'. The multiple stories of the Agoodjie acknowledge them as a strong army with regiments and ranks, fighting on the forefront and simultaneously pretending to be helpless women – thereby catching or killing their enemies unexpectedly.
Their origin dates back to the 1700s. King Akaba died unexpectedly of smallpox in the arms of his twin sister, Hangbe, during the war against the kingdom of Wemenouin (1715-1716). Akaba's heir was too young to take the throne, let alone fight in the war. It is said that Hangbe made the decision to take the role of her late brother and lead the troops. She is said to have dressed as Akaba, acting so convincingly like him that nobody suspected. The Dahomey army won this war, and it was later discovered that Hangbe had impersonated her brother. She was then recognized as both king and the queen of the royal court simultaneously – a position which was highly contested by her younger brothers and other males in the community. This mistrust resulted in Hangbe mobilizing a female bodyguard for herself, rather than relying on the men that had been assigned to guard the reigning king. This was the beginning of the Agoodjie. Now, collective memory creates a blurred intersection of history, religion and mythology.
Nandipha Mntambo explains her creation of this collection of sculptures and photographs: "Through the act of recreating the attire worn by the Agoodjie; travelling to Benin Republic (and, more specifically, to the Royal Palaces of Abomey); and engaging with both modern day historians and custodians of this history, my intention was to excavate a portion of the past. By occupying their spaces and embodying these women, I created a fiction based on a complex history. Like the zebra that has its own distinct patterning but can merge and camouflage into the rest of the herd to conceal and disguise itself, I transform and reincarnate over and over – becoming a symbol of living many lives."