PRESS RELEASE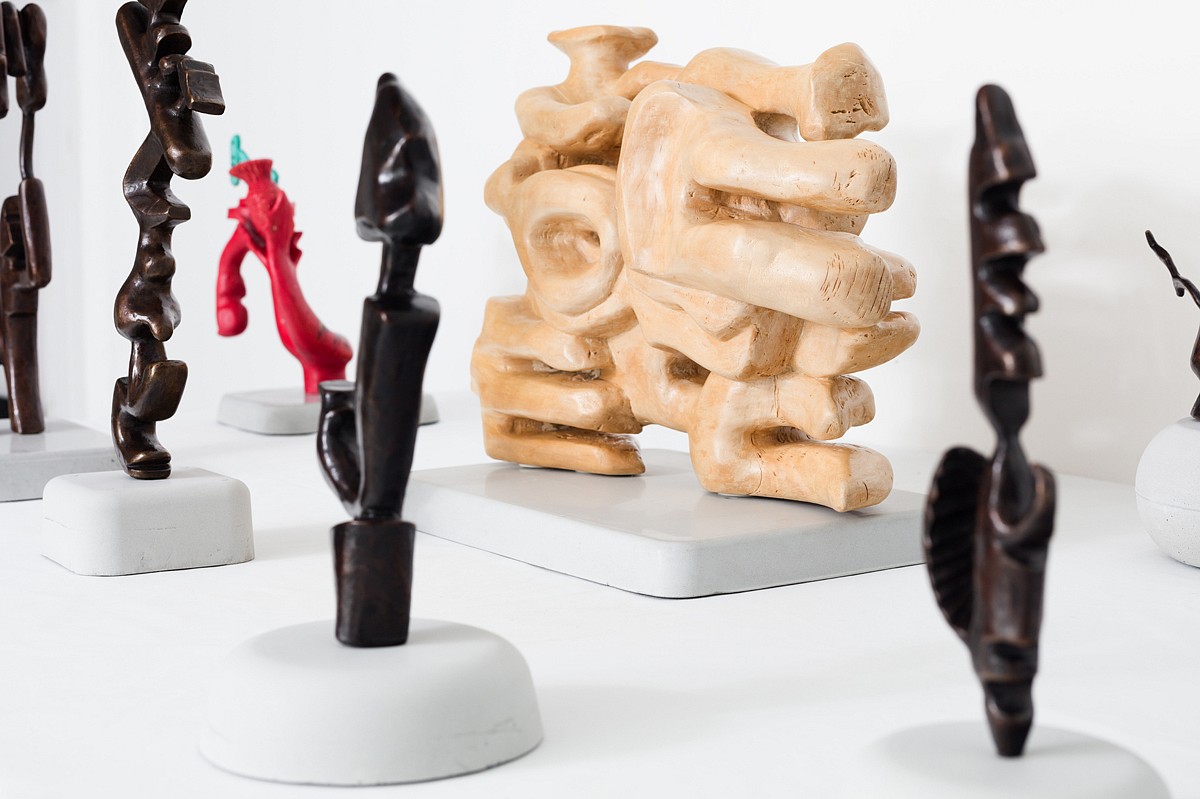 SOPHIA VAN WYK: Future Mythology
May 11 – Jun 1, 2022
Everard Read Cape Town is pleased to present: Future Mythology, a solo exhibition of new works by Sophia van Wyk.
Future Mythology is the result of intuitive blends of iconography from ancient civilizations, popular culture and futurism, which Van Wyk uses to question established traditions. The artist explains: "I create alternative portrayals of encounters and experiences in order to wonder about the possibilities to come."
For Van Wyk, the process begins with clouds: "Commemorating days that are significant by photographing the clouds mapped across the sky on that day, I then create sketches of these temporary forms, capturing their essential shapes in watercolour. My art-making is self-reflexive. It is both ritualistic and a method of connecting to my unconscious."
By employing modes of association, Van Wyk begins to identify formal structures within the shapes, developing them into multi-dimensional art objects. The translation into object functions as praxis, the cyclic relation between theory and practice. Through this process of archiving her memories there is for the artist a documentation of meaningful moments both socio-political and personal. The manner in which she navigates space, time and consciousness in this body of work is in part informed by the cosmological symbolism of ancient cultures and religions – the lenses of myth and possibility. References include Homer's Odyssey, Kabbala and Nordic goddess Freyja's use of seiðr, a form of magic related to the telling and shaping of the future.
Through these various influences, Van Wyk explores the concept of weaving one's own fate. By envisioning the future and then creating a present version of it in the production of her sculptural future mythologies, "the artworks can be seen as tools for the practice of seiðr. They can be interpreted as road signs in the journey from an inner to the outer world."
In this series, the larger sculptures are made using jelutong wood and oil paint. Jelutong's softness is conducive to carving. With a background in cabinet making, Van Wyk consciously turned towards the organic medium of wood in an effort to steer away from hazardous materials such as fibreglass. This choice resonates with her exploration around a circular economy, post-futures and the current climate crisis.
In turn, by incorporating softer materials and stitching in some of the works, the artist deliberately connects to so-called feminine techniques. This approach sits in contrast with the traditional masculine associations of the other mediums used (namely wood carving, and casting in bronze and concrete). These dual approaches are in conversation with each other across the body of work, contributing to what Judith Butler terms "the gender complexity", where normative gender constructs are challenged and expanded.
Another subversion is found in the sculptures' bases. The base for each bronze piece is poured concrete mixed with Duralatex. The shapes have been specifically cast from a variety of domestic food containers. Van Wyk aims here to negate the inherent function of these receptacles by moulding concrete within them.
The artist further explains: "I locate my art-making in the post-truth (truth being 'a matter of assertion') and myth-making embedded in the Anthropocene. The current Information Age in particular intersects with past and future epochs. This latest body of work is an attempt to contribute towards new narratives by imagining potential structures and shapes to explore new frontiers of knowledge and future worlds."
CLICK HERE TO REQUEST A PORTFOLIO
CLICK HERE TO RSVP TO THE OPENING NIGHT EVENT
Installation images by Michael Hall
*Face masks are required and must be worn at all times when visiting the gallery*