PRESS RELEASE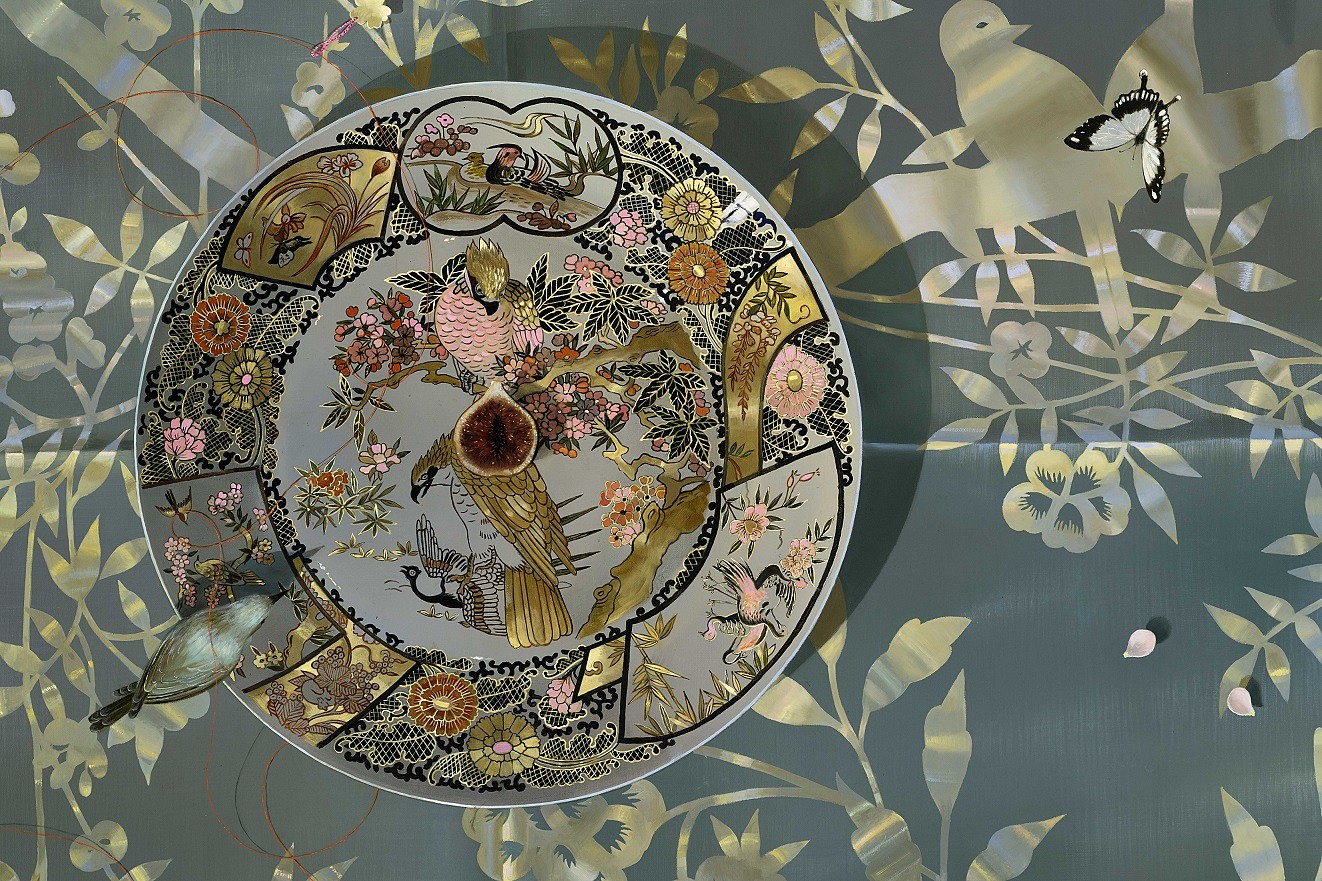 CARYN SCRIMGEOUR: Entangled
Nov 3 – Nov 24, 2021
Everard Read Cape Town is pleased to present Entangled, a solo exhibition by Caryn Scrimgeour.
In these spring days,
when tranquil light encompasses
the four directions,
why do the blossoms scatter
with such uneasy hearts?
- Ki no Tomonori (9th century)
Caryn Scrimgeour is known for her intricate birds-eye views of objects scattered on patterned fabrics – the aftermath of strange and fanciful dinner parties. The sumptuously spread tablescapes of her latest solo exhibition 'Entangled' draw together the many strands glimpsed in her richly detailed oeuvre over the years.
The title refers to constantly intertwining lives, ordered chaos, and cluttered minds filled with ideas: all that makes up our life experiences. Scrimgeour paints myriad objects to represent the perplexity of human reality, in which threads of the past and present, meaning and chance, are interwoven. She draws on the embedded symbolism and implicit memories of a life that these inanimate objects could contain, merging with and shaping our present.
Some of the objects are easy to read, often drawing on traditional Asian symbolism. Cranes, for example, are a symbol of success and good fortune in Japanese culture. They become potent wishes when folded into origami. These signs of hope and healing float across several works in the exhibition, linking them together by an invisible thread, thus reinforcing the idea of intertwining. The somewhat ominous golden-scaled dragons of 'Folding Wishes' actually represent freedom and good luck. The fan is a symbol of prosperity, while the chrysanthemum is associated with longevity and rejuvenation. 'Watching Blossoms' is a direct translation of hanami, a traditional Japanese custom celebrating the transient beauty of nature beneath the cherry blossom trees. While a symbol of renewal and optimism, sakura are, by the very brevity of their existence, a reminder of the fleeting fragility of life. We see their delicate, fading petals scattered across the other canvases. The ephemerality of these petals is contrasted with the scattered iridescent sequins, which will remain indefinitely unchanged in their plastic permanence.
Other objects are more ambiguous. For Scrimgeour they are more personal and thus trickier for us to parse. The admission card from the British Museum in the aptly titled 'Illicit Treasures' hints at the somewhat dubious acquisition of valued treasures, while a marshmallow fish conjures up childhood memories of forbidden pleasures. A chocolate wrapper, a box of matches, a thread bobbin – all have their secret stories to tell.
In contrast to these inert objects, lively little birds perch among the mismatched cutlery, ribbons and crockery (some showing cracks). Their entire life cycle is evident in their presence; the viewer can gaze at eggs alongside a skull. These curious creatures interact with the painted scenes. One eagerly anticipates a ripe fig. Elsewhere a torn strip from an erotic woodblock print is perused by a bird embroidered within the pattern of the fabric. The birds seem to be the protagonists here for the artist, having taken advantage of a momentary diversion to wreak havoc and playful chaos on scenes otherwise filled with frozen serenity and calm. This is a weighty metaphor for Scrimgeour. Unexpected moments in time, which can threaten to unravel us in life, are anchored by the solidity and permanence of our treasured objects and rituals, and the stability and sense of order which they serve to imply in our lives.
*Face masks are required and must be worn at all times when visiting the gallery