BIOGRAPHY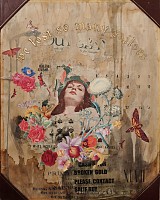 FAITH47
FaithXLVII is an internationally-acclaimed visual artist from South Africa who has been applauded for her ability to resonate with people around the world. Through her work, FaithXLVII attempts to disarm the strategies of global realpolitik, in order to advance the expression of personal truth. In this way, her work is both an internal and spiritual release that speaks to the complexities of the human condition, its deviant histories and existential search.
Channelling the international destinations that have been imprinted on her after two decades of interacting with urban environments as one of the most renowned and prolific muralists, she continues to examine our place in the world.
Using a wide range of media intended for gallery settings, her approach is explorative and substrate appropriate, including found and rescued objects, shrine construction, painting, projection mapping, video installation, printmaking and drawings.
The seeds for FaithXLVII's works begin with a raw intimacy. Exploring the duality of human relationships, her imagery carries the profound weight of our interconnectedness.
While some people see a dilapidated building as proof that the world is purging itself of the unwanted, FaithXLVII is reclaiming these forgotten elements with a sensuality of her own and presenting them with a virtuoso's skill-set.
EXHIBITIONS AND PROJECTS
2019
Universal Studios Indoor Artwork Commission, Los Angeles, USA
Dictator Art Installation, Columbia
Design Indaba Talk and AURUM Performance, Cape Town, South Africa
The Freedom Piece Group Exhibition- The Pailpat Hotel, Los Angeles, USA
20 Year Anniversary Exhibition, Cory Helford Gallery, Los Angeles, USA
Together Group Exhibition, KP Projects Gallery, Los Angeles, USA
Conquête Urbaine, Calais Museum of Fine Art, Paris, France
United Labor Organization 100 Year Mural, New York City, USA
Maya Angelou School Mural Upliftment Project, Los Angeles, USA
Mural Arts Large Mural Production, Philadelphia, USA
Mural commission, Charlottesville, USA
Projection Mapping Mural, BLINK, Cincinnati, USA
2018
Cape Town Art Fair, Everard Read CIRCA Gallery Cape Town, South Africa
Short Film Festival CortoLovere, Italy
Mana Contemporary Group Exhibition,
Moniker Art Fair, New York
Grand Opening Mirus Gallery, Denver, USA
Beyond The Streets, Los Angeles, USA
Mural Project, Vancouver, Canada
Mural Project, North Carolina, USA
Artmosphere, Russia
One Way Through, Group Exhibition, Heron Gallery, San Francisco, USA
Elixir, Solo Exhibition, Miami, USA
Moniker Art Fair, London, UK
Destination 131, Paris, France
Summit LA18, Los Angeles, USA
Conquête Urbaine, Paris, France
Women in Street Art, Paris, France
2017
Production for CNN African Voices, Cape Town, South Africa
Cape Town Art Fair, Cape Town, South Africa
Urban Currents, group show, Gallerie Kirk, Denmark
Digard Auction, Tribute to Paris, Paris, France
Magic Cities exhibition, Munich, Germany
Production for ARTE TV, Naples, Italy
UrbanArt Biennale®, UNESCO Voelklinger Huette World heritage site, Germany.
Homeless, group exhibition curated by Axel Void, Miami, USA
Art Council Public art intervention, New Orleans, USA
Urban Nation Museum, group exhibition and public art intervention, Berlin, Germany
2016
XX: A moment in time, Saatchi Gallery, London
Cities of Hope Mural Project, Manchester, UK
Inter|urban Mural Project, Cleveland USA
Freedom as Form Group Exhibition, Wunderkameren Gallery – Milan, Italy
M10 – Urban Nation Museum Group Exhibition, Berlin, Germany
Agitprop, Brooklyn museum, New York, USA
Wynwood Walls, Art Basel, Miami, USA
2015
Aqua Regalia Solo Exhibition, Jonathan Levine Gallery, New York, USA
Pow Wow Taiwan, Taipei, Taiwan
Landfill Meditation Street Intervention, Johannesburg, South Africa
Dragon Tiger Mountain Mural Project, Nanachang, China
Ono'u Mural Project, Tahiti
Festival Mural, Montreal, Canada
The Psychic Power of Animals Street Intervention, New York, USA
Murals for Oceans Expedition Mural Project, Cozumel, Mexico
2014
Aqua Regalia Solo Exhibition, London, UK
Berlin Wall 25th Anniversary Group Show, Paris, France
Library Street Collective Group Show, Basel, Miami, USA
Redux Group Show, Inoperable Gallery, Vienna, Austria
Artscape Mural Project, Malmo, Sweden
5 Sector Mural Project, Glasgow, Scotland
Djerbahood, Djerba, Tunisia
Forest for the Trees Mural Project, Portland, USA
Rencontres Australes d'Imaitsoanala, Antananaraivo, Madagascar
Outdoor Urban Art Festival, Rome, Italy
The Art of Collaboration Wynwood Walls, Basel, Miami, USA
Artesano Mural Project, Rio San Juan, Dominican Republic
2013
Women on the Walls Group Exhibition, Jeffrey Deitch and Wynwood Walls – Miami, USA
Wooster Collective 10 Year Anniversary Show, Jonathan Levine Gallery, New York, USA
XII. Into the Dark Group Exhibition, Unit44, The Victoria Tunnel, Newcastle, UK
Brotkunsthalle Group Show, Vienna, Austria
Beyond Eden Group Exhibition, Thinkspace Gallery, Los Angeles, USA
Anniversary Group Show, White Walls Gallery, San Francisco, USA
Memorie Urbane Mural Project, Gaeta, Italy
Sculptura Viva International Symposium, San Benedetto del Tronto, Italy
Nuart Mural Project, Stavanger, Norway
MAUS Mural Project, Malaga, Spain
Avant-Garde Urbano Mural Project, Tudela de Navarra, Spain
Los Muros Hablan Mural Project, San Juan, Puerto Rico
Pow Wow Mural Project, Hawaii
2012
Fragments of a Burnt History Solo Exhibition, David Krut Gallery, Johannesburg, South Africa
Antenna Garden Dal & Faith47 exhibition, Rtist Gallery, Melbourne, Australia
International Women, Warrington Museum Group Exhibition, London, UK
Mural Project, Tel Aviv, Israel
Aarhus International Mural Project, Aarhus, Denmark
Group Show, Kulturhuset, Stockholm, Sweden
Mural Project, Sion, Switzerland
Mural Project, Melun, France
Wall Therapy Mural Project, Rochester, New York, USA
Wynood Walls, Miami, USA
2011
Urban Painting Group Show, Milan, Italy
Group Exhibition, Wuppertal Museum, Germany
Group Exhibition, Warrington Museum, London, UK
Gossip Well Told Group Show, Blackall Studio, London, UK
Les murs litinerrance Group Show, Paris, France
Urban Mural Project, Greece
City Leaks Mural Project, Cologne, Germany
Inner Walls Mural Project, Milan, Italy
Batelier Mural Project., Slovakia
2010
Moniker Art Fair, London, UK
Design For Humanity Group Exhibition, Thinkspace, Los Angeles, USA
For Those Who Live In It Group Exhibition, Mu Gallery, Eindhoven, Netherlands
Le Salon Du Cercle De La Culture Group Show, Circle Culture Gallery, Berlin, Germany
Stroke03 Art Fair, Berlin, Germany
Escape Art Fair, Vienna, Austria
Biennial, Sao Paulo, Brazil
Focus10 Art Fair, Switzerland
Urbanus International Mural Project, China
Muao Mural Project, A Coruna, Spain
2009
The Generations Group Show, The Showroom Gallery, New York, USA
Epitaph Solo Show, Mrego, Brussels, Belgium
Four Group Show, 34 Long Fine Art Gallery, Cape Town, South Africa
Artotale International Mural Project, Lueneberg, Germany
2008
The Restless Debt Of Third World Beauty Solo Show, Atm Gallery, Berlin, Germany
1st Internationale Graffiti Bienale, Belo Horizonte, Brazil
Anything Could Happen Group Exhibition, Carmichael Gallery, Los Angeles, USA
2007
Be Girl Be Mural Project, Intermedia Arts, Minneapolis, USA
Pick Of The Harvest Group Exhibition, Thinkspace Gallery, Los Angeles, USA
2006
Lines Of Attitude Group Exhibition and Mural Project, South Africa And Kenya
2005
Subglob Group Exhibition, Orebro, Sweden
Go Gallery Group Exhibition, Amsterdam